Globexs (GLOBAL EXPATRIATE SERVICES SL), with headoffice in Valencia, Spain, is a service company for expats moving to Spain, Frane and Belgium. Globexs is associated with another company, BLUE KEY INVESTMENTS.

Globexs offers services to expats:

furnished rental apartments: fully equipped short stay rental apartments in Antwerp, Valencia, Barcelona, Madrid and Asturias
legal assistance: a Globexs lawyers helps expats with immigration processes and other legal matters related to moving abroad

Blue Key offers services to owners and investors:

property management

:

complementary housing services related to short stay rentals

property finding

:

assistance to expats who want to buy a property in Spain

(more info on http://bluekeyinvestments.es)
The history of Globexs
Globexs was founded in 2002 focusing on expats on the move, with a wide range of services to make their stay abroad more comfortable. In the first years the focus was mainly on language and translation services. In 2009 Globexs started offering accommodation for expats in Antwerp. In 2010 we started in Valencia, and soon we added Madrid, Asturias, Barcelona to our destinations. Our apartments are fully equipped, located in nice areas, and offer the right comfort level.
Our customers are expats that arrive in a new destination. Our goal is to make them feel welcome from the first minute. Besides the right accommodation we offer a wide range of complementary relocation services, such as legal assistance related to immigration, translations, etc.
Since 2015 we have added an extra service: a specialized webshop for expats. In the Globexs webshop we offer a range of indispensable items for every expat: "Everything that you forgot or was too heavy to bring". Expats can buy new bedlinens, pillows, duvets, towels, umbrellas, amenities, etc...
Customer service is what the rental business is all about. Whether you stay for a week or 6 months our level of engagement is the same: customer satisfaction through quick replies and problem solving. Welcome to your new destination, welcome to Globexs!
The history of Blue Key
Blue Key investments was founded in 2017 as a sister company of Globexs (Global Expatriate Services SL).
The owners of Blue Key are the same people behind Globexs: Lodewijk Cuypers (senior property investment consultant) and Tiscar Navarro (Property investment lawyer).
Blue Key was founded to offer specific solutions to the requests that we were receiving from our Globexs customers. Since 2012 foreigners and expats in Valencia have been using Globexs for their accommodation needs (short term rentals), and legal immigration assistance. In recent years we receiving more and more requests for property investments in Valencia, and that is not a coincidence, because Valencia has become one of the most interesting and popular places to invest in Europe.
Now is a good time to invest in Valencia. Property prices are still low, but demand is increasing and prices are slowly rising again. Investors are moving quickly and search the market for interesting deals before it is too late.
Close the circle with Globexs and Blue Key
Valencia is booming! Large groups of foreigners are strolling the streets looking to invest in Valencia. And most of them are looking for a one-stop solution: they want to find the one company that assist them all the way. Globexs / Blue offer exactly what foreign investors are looking for.
1. Property hunting
We help you find the right apartment to invest in Valencia
2. Legal assistance
We are lawyers and we assist you with the legal formalities
3. Property management
We are a company that offers property management services
4. Rentals
We rent out your apartment and give you a return on investment.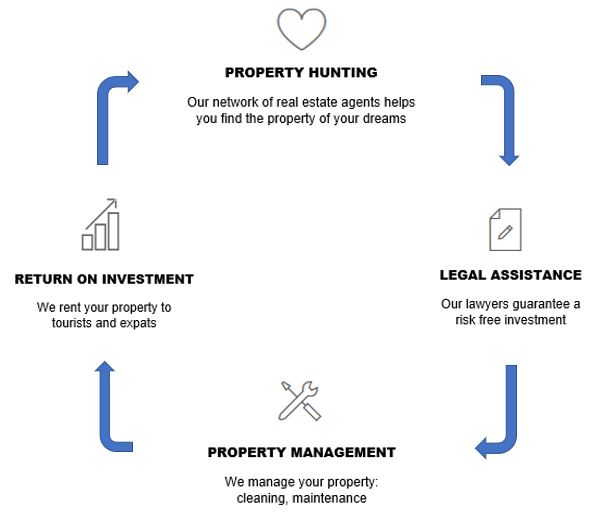 Tiscar Navarro
General Manager
GLOBAL EXPATRIATE SERVICE SL
BLUE KEY INVESTMENTS
.